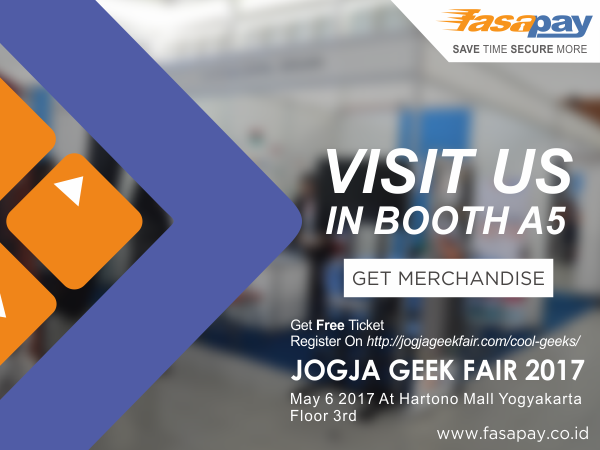 Jogja Geek Fair merupakan ajang tahunan yang mempertemukan perusahaan start-up dan digital IT, komunitas teknologi, dan talenta-talenta muda Yogyakarta. Akan ada 60 start-up yang akan showcase dan membuka lowongan pada acara tersebut. Selain itu, acara ini juga akan dimeriahkan talkshow dengan para pembicara ternama. FasaPay Indonesia akan hadir di Jogja Geek Fair 2017 Booth A5.
Hari/Tanggal : Sabtu, 6 Mei 2017
Tempat : Hartono Mall, Hall 3rd Floor, 73 Jalan Ring Road Utara Kec. Depok, Jogja 55281
Waktu : 10.00 – 21.30 WIB
RUNDOWN EVENT
JOGJA GEEK FAIR 2017
6 Mei 2017 at Hartono Mall Yogyakarta
TALKSHOW
10.30 – 12.00 | Talkshow : WORKING AT START-UP COMPANY
Pembicara: Lanny Wijaya (LinkedIn), Panji Gautama (VP. Engineering of KUDO Indonesia), Asro Nasiri (Business Incubator AMIKOM)
Moderator : Kinanthi Retnaningtyas (Start-Up Jobs ASIA)
12.30 – 15.00 |Talkshow II : FINTECH-TALK
Pembicara: Syafri Yuzael (Director of AINO), Budi Hanoto (Bank Indonesia), Jonathan Gerhard Tarigan (Balai Sertifikat Elektronik, Lemsaneg)
Moderator : Dwitya Aribawa (Lecturer of Universitas Atma Jaya Yogyakarta)
15.30 – 18.00 |Talkshow III : INNOVATION TO IDEAS
Pembicara: Yosep Aditya (CEO Ralali), Ghufron Mustaqim (Salestock Indonesia) & Teresa (UC News Alibaba Group)
Moderator : Guntur Sarwohadi (Innovative Academy Incubation)
18.30 – 21.30 | JOGJA POINT FOR START-UP
Pembicara: Larry Chua (Caption Hospitality), Karina Akib (GOOGLE Indonesia), Eri Punta (Telkom Indonesia)
Moderator : Rama Mamuaya (Dailysocial.id)
Dapatkan tiket gratis dengan register terlebih dahulu di
http://jogjageekfair.com/cool-geeks/
Pendaftaran ditutup hingga 5 Mei 2017.
JOGJA GEEK FAIR 2017 – Lebarannya anak IT Yogyakarta
#FasaPayIndonesia #Paymentsistem #Jogjageekfair2017 #Yogyakarta