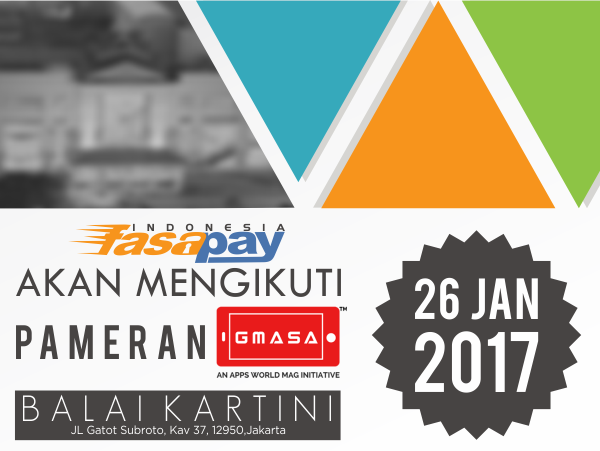 The Global Mobile App Summit and Awards (GMASA) adalah sebuah acara eksklusif yang berpusat pada industri mobile. Acara ini akan melihat sejumlah ahli dari berbagai aspek industri berkumpul di bawah satu atap. Dengan lebih dari 5000 peserta, termasuk penggemar mobile, pengembang aplikasi, pemasar aplikasi, pengambil keputusan, investor dan wartawan, GMASA adalah kesempatan yang sangat baik untuk mendapatkan aplikasi Anda, produk dan jasa di depan para pemangku kepentingan yang paling berpengaruh dalam bisnis.

Kali ini FasaPay Indonesia berkesempatan untuk berpartisipasi dengan membuka stan pameran di GMASA. FasaPay Indonesia memperkenalkan produk baru yaitu Payment KiosK dan FasaPay Payment Api.

Ayo datang dan ramaikan stand FasaPay Indonesia, kami ada di stand A2. Datang dan dapatkan merchandise menarik.